We can custom design your drive gates, add gate operators or a complete controlled access system.
Our wrought iron railings are custom created to fit your style.






Spiral stairs are a unique and elegant form of multiple floor access.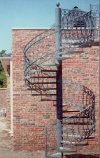 Wrought iron fences offer beauty and security to you, while enhancing the value of your property for years to come.

We offer a wide range of styles to provide beauty and protection.
Click on the picture or name to see more examples